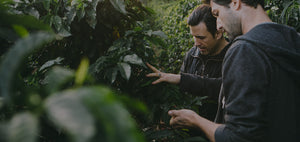 Jeremy and Paul were inspired to create their own. In a world overrun by smart phones and news feeds, they wanted a business where people came first. They've turned that dream into a New York success story, and they're ready to share that with anyone who's as hungry as they are for more than just the status quo.
Paul
Paul has spent the better part of the last decade making great coffee through developing relationships sourcing and perfecting Birch Coffee's roasting practices. Paul is meticulous when it comes to serving great coffee. Though the coffee side is important, leadership is where Paul spends most of his time, building teams and working to get our leaders to follow our mission to "Serve our customers every need, every time, knowing every moment counts".
Jeremy
Jeremy started working in the hospitality industry at 15 and has never looked back. His passion for service is evident with every customer experience at Birch Coffee. You'll often find him hanging out at a store, outside playing with a regular's dog or behind the counter lending a hand which is something he's most passionate about. He strives daily to perfect the experience for both the Birch Coffee team and the customers alike, right down to the last drop of cold brew.