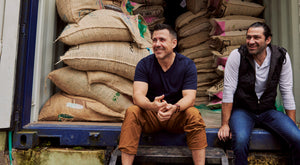 Birch Coffee was the inspiration from two guys who simply wanted to love and have a passion for what they did day in and day out. In a world overrun by smart phones, news feeds, and so many folks all too concerned with what they next person is wearing or traveling, these two chaps wanted to create a space where people could simply turn off the outside world, even if only for a brief moment. Coffee shops were created so people could connect, sit face to face and be present. This wish has been turned into a true New York success story.
Birch Coffee cares about how you take your coffee. We care about your name. We know we're sometimes the first people you speak to in the morning and we take that damn seriously. We strive to be the coffee shop you expect us to be. The shop you will walk 5 blocks out your way to in the rain. We are the shop that meets your expectations and then exceeds them.
We have been spending the last decade plus earning your trust and will continue to do so for the next. Thank you for trusting us to make your day just a little bit better and letting us know when we can do better. We wouldn't be who we are today without every person that has stepped through our doors.
Thank You.
Jeremy + Paul + Birch Coffee
Paul
To say that Paul has a passion for coffee and for service would be the understatement of the year.
Growing up in a farm town outside the Twin Cities of Minnesota, when he wasn't focused on hockey during the winter (surprise surprise), he was taking to the links and playing shortstop for his local little league team.
But, it was at the age of 15, when an opportunity to make a few extra bucks bussing tables, where the trajectory of Paul's life would be forever changed, whether he knew it or not. Service became ever present regardless of where he was. Even when his plans for secondary school were put on hold because of the birth of his first daughter, service played a pivotal role there too. Changing diapers has a tendency to be full time work.
When he finally made his way to NY in 2003 to study musical theater, service worked its way into his life again. Whether behind the bar, running the restaurant floor, or waiting on rowdy college kids in the West Village, Paul couldn't escape the industry he had never planned on working in the first place.
In 2005, when things took a bit of a sharper and unexpected turn, he found himself in a recovery meeting trying to piece his life back together. But the one continual thread he couldn't escape was, you guessed it, service. It was only by reaching out to help someone in need that he met Jeremy who had just found his way into a meeting.
The two would forge an unshakeable bond which would lead to the creation of Birch Coffee.
Paul and Jeremy found themselves attending a coffee show in 2008 after the idea to open a coffee shop of their own had been sparked. Paul happened upon a cup of coffee from Ethiopia on the first day of the show and that was the moment that Paul's passion for and career in coffee would officially begin.
After they opened their first and continued to build their organization, it was clear that Paul was the super taster of the two. He went on to receive certification as a Q grader and is the company's green coffee buyer. He has developed long lasting relationships with the farms Birch Coffee works with and continues to seek out the highest quality coffee to ensure that Birch is always serving its customers the quality they deserve.
Paul takes his role within the organization very seriously. He is truly passionate about developing relationships with Birch Coffee's customers but it is his passion for leading that allows Paul to thrive. He is constantly working the leadership team within the company to build long lasting leadership and preparation for success. Whether someone plans to work with Birch long term, or they are simply passing through while in school, Paul takes ownership of each relationship and makes it his responsibility to make someone a better leader from when they start to when they move on.
We're thrilled to have Paul as a leader of the organization.
Optional button
Jeremy
Growing up locally, Jeremy didn't have to hit any residency benchmarks to be considered a New Yorker. As a kid, Jeremy was never short on business ideas, whether it was a T-shirt company, a First Class Only Airline, a nightclub serving scrambled eggs after midnight or even an erotic chocolate company, Jeremy seemed to have the entrepreneurial mindset from a very young age.
It was when his Great Grandma Fritzy would serve him delicious scoops of coffee ice cream at her apartment in Brooklyn, however, that the proverbial coffee seed was planted.
Never shying away from any work he was presented with, Jeremy developed a true fondness for all jobs he worked in hospitality. Be it as a bartender or a restaurant manager, Jeremy was the friendly face serving you all the while, polishing his skills that would eventually lead him to where he finds himself today.
Service has always been at the heart of Jeremy's passion for work. In 2005 while dealing with challenging life circumstances, Jeremy leaned that much heavier into service. It was during this period that the idea for Birch Coffee was born. He wanted to create a place where all people would feel welcome, take pause from the daily grind (pun very much intended), and be able to enjoy an exceptional cup of coffee.
When Jeremy met Paul at a 12-step meeting one fortuitous evening, the friendship that was forged would be what embodied the principles and foundation of Birch Coffee.
Early in Birch's development, it was clear that Jeremy wanted to channel his years of service into building a better coffee company. Whether it's the level of eye contact made with a customer or the interactive nature of Birch's to-go cups, there is no detail too small to be overlooked. It's because his keen awareness to his surroundings and his desire to make everyone's day just a touch better that Jeremy has been able to build Birch into the coffee and people loving company that has become a staple of New York city culture.
I enjoy exploring unique
coffees usually put through different processes.My palate is one that likes being challenged.
Truly visiting my friends
at origin, be it Colombia, Guatemala, Brazil… learning more about the cultures
that bring us our coffees is my happy place.
My Favorite Place to Travel
Australia. She'll be right.